University
offering a look at several marine experiments set up on the site by the field branch of the one of Israel's leading universities and Marine Biology research units
· Location: Lighthouse Beach - south of the Underwater Observatory
· Parking for private vehicles: Dive Club transport is recommended as this is a tow zone with very limited parking.
· Disabled access: Yes, however minimal assistance may be necessary in order to reach the water
· Entry point: Buoy lines mark entry points to the site north of Lighthouse Beach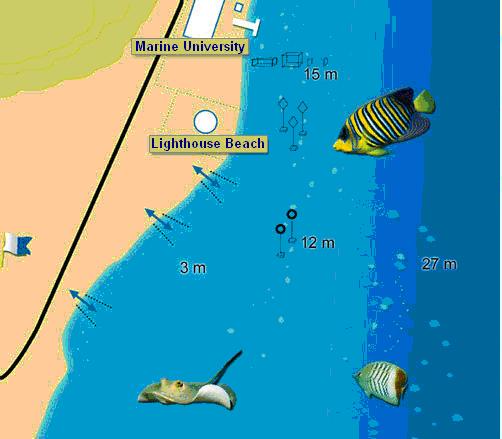 · About the dive: This is an interesting dive to 14-17m, offering a look at several marine experiments set up on the site by the field branch of the one of Israel's leading universities and Marine Biology research units.
Of particular interest is the so-called 'pressure chamber', where a large netted structure has created a home for plentiful soft yellow corals, and even the occasional Angler Fish.
· Dive Plan: Entry through designated areas, then very gradual descent with the coral-carpeted seafloor to 14-17m, according to your dive plan.
Continue swimming north at this depth until the first giant installation (a pair of floating tyres over an electrical apparatus), and continue a little further to the 'pressure chamber'.
Upon reaching returning air pressure, turn southwest and ascend with the sea floor to 5-6m to enjoy vibrant corals with the occasional rift.
Experimental plates can also be seen, upon which rows of tiny corals have been planted to monitor growth.
· Marine life: University is often a good place to sea open-sea fish passing by such as Tuna and Red Sea Fusiliers.
The experimental nets are abundant in soft corals which create a habitat for many varieties of reef fish.
· Safety Warning: The Research Laboratory's speedboat often passes or anchors in the area.
Divers may not touch or interfere with the Laboratory's experiments in any way